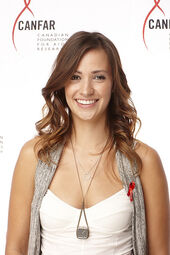 Kristen Gutoskie is a Canadian actress, singer, and dancer who has appeared in Beaver Falls, Being Erica and Breakout Kings. She is best known to this site for portraying camp guidance counselor Rachael in Beaver Falls.
Early Life/Personal Life
Edit
She began her acting career aged 12, as well as work as a singer and dancer. She has won many competitions as a solo singer, and competed in a number of dance groups. She begun acting in television commercials, and appeared on television on Showcase, CTV, and Global TV channels. She acted into her teen years, then went to Wilfrid Laurier University in Waterloo, Ontario, Canada, to complete an honors arts degree. There, she also taught hip-hop dance classes. She went on to become an exchange student in Australia, then continued on to New Zealand and various locations in Europe.
Filmography
Edit
[Name of work (Year of production) - Part played in work - Type of work] [Episode title(s) are sub-bulleted and italicized (if any); episode premier dates in brackets]
Restless Spirits (1999) - Daughter of Coli - Television Movie
Real Kids, Real Adventures (2000) - Sherry Dicker - Television Series

Through The Ice: The Sherry Dicker Story (2000)

In A Heartbeat (2001) - Donna - Television Series
System Crash (2000-2001) - Various parts - Television Series

[No Title - Dated 1 September 2000] (2000)
Good Deeds Done Cheap (2001)

Verdict In Blood (2002) - Leah - Television Movie
Recession Dating (2009) - Janet - Short
Manson, My Name Is Evil (2009) - Hotel Guest - Film
Pure Pwnage (2010) - Femme Fatale - Television Series
Vacation With Derek (2010) - Roxy Dunbarton - Television Movie
Aaron Stone (2009-2010) - Beth - Television Series

Game On (2009)
Sparks (2010)

Breakout Kings (2011) - Rose - Television Series
Rookie Blue (2011) - Miranda - Television Series
Moon Point (2011) - Sarah Cherry - Film
Being Erica (2010-2011) - Georgie Giacomelli - Television Series

Fa La Erica (2010)
Osso Barko (2011)

Originals (2011) - Trish - Television Series

The Fresh Start (2011)
Pals (2011)
What's The Deal (2011)
The Meeting (2011)
A Situation (2011)
Can't Live Without 'Em (2011)
Smarty Pants (2011)
That's A Wrap! (2011)
The Original (2011)

Blink (2011) - Short
Beaver Falls (2011-2012) - Rachael - Television Series
Republic of Doyle (2013) - Kyla MacRury - Television Series

Identity Crisis (2013)
Multitasking (2013)
Retribution (2013)

Playground of Dreams (2013) - Audrey - Short
5PiX (2014) - Short (In post-production)
The Dust Storm (2015) - Nora - Film (In post-production)[1]
External Links
Edit
References
Edit
Community content is available under
CC-BY-SA
unless otherwise noted.