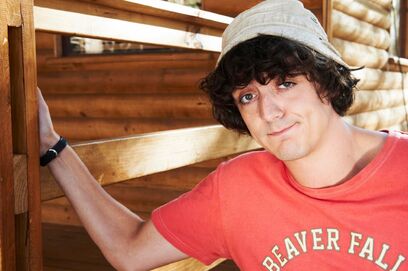 Background infomation
Occupation: IT Support

Species: Human

Age: 20

Family: Unknown

Skin colour: Fair.

Hair colour: Dark brown

Eye colour: Brown

Aliases: Barry (By everyone), Virgin (By The Chunk Bunk and Barry and Flynn)

Status: Alive

First Line: "Yeah. You know, like Prince."

Portrayed by: John Dagleish.
Barry
- whose real name was David Fletcher but as the result of a practical joke is legally now just
Barry
, (no last name) is the stoner games junkie, with a degree in computer science and a casual relationship with personal hygiene.
First Line: "Yeah, you know like Prince."
Barry oversees the technical capabilities at Beaver Falls and the main perk of the job is that the computer room overlooks the lake and comes complete with stunning views of super hot lifeguard Kimberley
Kimberley leaves Jake in Barry's favour, and has sex with him during the last night at the camp,
Therefore Kimberley eventually finding the error of her ways and dumping Jake for treating Barry, and "The Chunk Bunk." badly and chooses to go out with the loveable underdog Barry.
By the end of series one , Barry has learned to take more responsibility for his actions after he was mistakenly led to believe that Kimberley was pregnant. However, Jake, despite initially returning to the camp with a considerably more benevolent outlook on life, ultimately attempts to steal Kimberley back from Barry; though she rejects Jake,
Barry decides to stay as just a friend to her when he realises that she isn't ready for a serious commitment. 
Community content is available under
CC-BY-SA
unless otherwise noted.