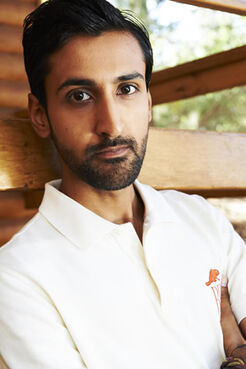 Background infomation
Occupation: Activities manager / Camp Counsellor

Species: Human

Age: 23-25

Family: Unknown

Skin colour: Brown

Hair colour: Black

Eye colour: Dark brown / Black

Aliases: Adil, A-Rab, Stupid twat

Status: Alive

First Line: "Falls, Yeah!!"

Portrayed by: Arsher Ali
With his ex-girlfriend in the past, he falls for Rachael the camp's guidance counsellor, but is let down discovering that she slept with Flynn. Due to Saima returning to Beaver Falls and seducing Adil and having sex with him not to Adil's dismay until Adil releases he has made a awful mistake and tries to find Rachael who happens to be with Flynn....
Series 2: A-Rab returning to Beaver Falls he attempts to pick up where he left off with Rachael, but finds out she is now married to the bumbling but well-meaning Mac, which upsets A-Rab seeing as things where going right for him....well as "right." as things can be at Beaver Falls.
A rift is formed between the trio when Barry drunkenly rats A-Rab out to the police, and A-Rab instead comes to trust Hope, a lively, cheerful, gobby and completely untrustworthy, new guidance counsellor,
Also there was a short rift between A-Rab and Flynn when he eventually finds out that Flynn, slept with the girl he "loves." Even though he still after proposing to Saima is hung up on her....
Community content is available under
CC-BY-SA
unless otherwise noted.